Virginia Postage Stamps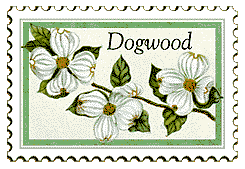 State Flower:
Flowering Dogwood

State Bird:
Cardinal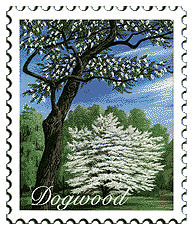 State Tree:
Dogwood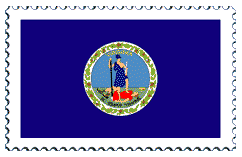 State Flag:
When this flag was being designed in 1776, Virginia and the other 12 colonies were fighting for independence from the tyranny of the English crown. The woman, Virtue, represents Virginia; the man, holding a whip and chain is a tyrant. Virtue prevails as the tyrant lies on the ground and loses his crown.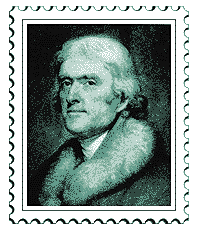 Famous Person:
Thomas Jefferson
Thomas Jefferson wrote this verse on his deathbed as a farewell to his daughter:
"Life's visions are vanished, its dreams are no more;
Dear friends of my bosom, why bathed in tears?
I go to my fathers, I welcome the shore
Which crowns all my hopes and buries my cares.
Then farewell my dear, my lov'd daughter adieu!
The last pang in life is in parting from you.
Two seraphs await me long shrouded in death;
I will bear them your love on my last parting breath."
His last words were, "I now resign my soul, without fear, to my God, my daughter, my country." He died on July 4, 1826, the 50th anniversary of the signing of the Declaration of Independence. He left specific directions that his gravestone should bear the following inscription, and "not a word more":
HERE WAS BURIED
THOMAS JEFFERSON
AUTHOR OF THE DECLARATION
OF AMERICAN INDEPENDENCE
OF THE STATUTE OF VIRGINIA
FOR RELIGIOUS FREEDOM,
AND FATHER OF THE UNIVERSITY OF VIRGINIA

". . . by these as testimonials that I have lived I wish most to be remembered."