ARTIFACTS FROM SOUTH DAKOTA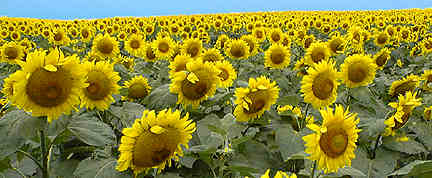 South Dakota sunflower farms color the countryside with rows and rows of big, bright, yellow fringed balls the size of pizza pies. As they uniformly bob in the breeze, they create an image of a wavy sea of lemon yellow. Most of the crop will be used for salad oil, the remainder will be used for animal feed.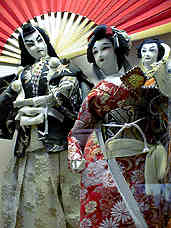 The Enchanted World Doll Museum in Mitchell contains 4000 antique and modern dolls from all over America, Europe and Asia showcased in scenes that span hundreds of years and cultures.
Dioramas of nursery rhymes, fairy tales and life in the 19th and early 20th century, such as the one below of Pioneer dolls shopping at the general store, keep the dolls from getting dull. Each scene offers an enrichment for the imagination as one considers times and dolls gone by.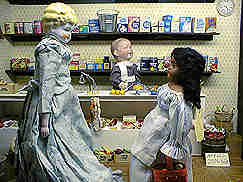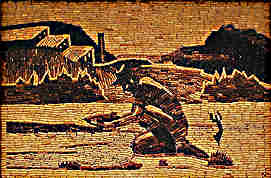 Mural-making at the Corn Palace:
Created by the famous South Dakota artist, Oscar Howe, this mural of an old prospector panning for gold is made entirely of corn. The artist begins by first drawing the scene in miniature and then chalking it out to actual dimensions on black tarpaper. Each section is carefully marked with instructions to the workers as to what color of corn should be placed where, and how it should be positioned. Next, individual ears of corn are sawed in half lengthwise and nailed flat to the panel, according to the artist's specifications. The desired artistic effect of certain angles, shadows and depth are achieved through the slow, steady work of hand chiseling.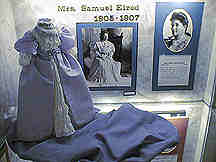 The first floor of the State Capitol displays the "First Lady Gown Collection," miniature recreations of the dresses each First Lady wore to the Inaugural Ball alongside photos of the event. Most of the recreations are made from the material of the actual dress.
Photos taken week of August 10, 1998
Copyright 1998 WriteLine.
All materials contained in this web site are the property of WriteLine.
All rights reserved.