If you teach U.S. geography, or if you're an armchair traveler who wants to explore America without leaving your seat cushion--you've come to the right place. Hitch a ride in our virtual backseat as we tour the 50 states in our RV, "Harvey the RV," and share this exciting journey through the window of an electronic postcard.

Ken, a photographer and graphic designer, photographs and creates the Live-at-the-Scene™ postcards while Priscilla, a writer and former American history teacher, writes the accompanying captions, personal messages and trivia questions. (See Who Are We?)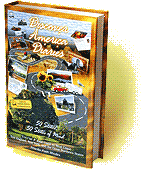 We launched our first Discover America adventure on Columbus Day 1997, beginning at sunrise on Cadillac Mountain in Maine where sunbeams first light up America, and ending the tour three years later at sunset in South Point, Hawaii, the last place the sun rests on America. Our first trip, the Capital Tour focused on the 50 state capitals and nearby attractions. Find out more about this adventure in our new book Discover America Diaries. If you ever dreamed of quitting your job, buying an RV and taking off to see America, read this book first! Click here to peek inside the book, read customer reviews or place an order. Proceeds support the website and keep the postcards free.

What began as a personal vacation is now a permanent way of life as we continue to explore and share America with like-minded individuals, like you. Our current trip, the Wild Side, features the states' back roads, mountains, seashores, rivers, woods, swamps, and wildlife. Join us as we explore the beauty and excitement of each state's glorious landscape and indigenous wildlife. Sign up today to begin receiving a FREE e-postcards.
So grab a window seat and join us as we discover America, again.