ARTIFACTS FROM VERMONT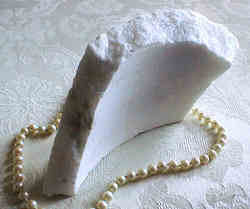 Here's a gem we found in Vermont. In front of the entrance to the marble factory in Proctor sits a big bin of marble chunks. A sign reads "Take One." We did. This is the chunk of marble we took to remember Proctor, the town of marble. It's now a bookend in our mobile office.

Copyright 1997 WriteLine.
All materials contained in this web site are the property of WriteLine.
All rights reserved.