ARTIFACTS FROM MONTANA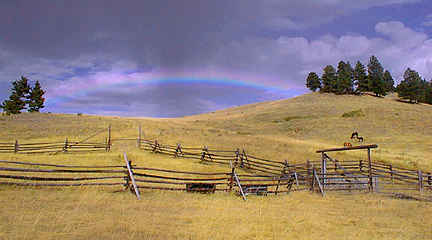 Rainbow bridge . . . Although we didn't find a leprechaun or a pot of gold at the end of this rainbow, we did find a field of gold that brought out a different kind of a magic: the awe of Nature's artistry.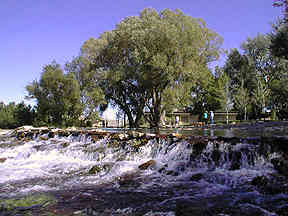 Roe River. . .
The Roe River shown here is a little over 220 feet long as it flows into the Missouri. The World Book of Records proclaims it the "Shortest River in the World." Ironically, it flows from Great Springs, the "Largest Fresh Water Springs in the World." When Lewis & Clark were here in 1805, Lewis wrote, that it was "the largest fountain I ever saw and doubt if it is not the largest in America." Great Springs has a daily flow of 388,800,000 gallons with a constant temperature of 54 degrees. (And it tastes great, too.)
Photos taken week of September 14, 1998
Copyright 1998 WriteLine.
All materials contained in this web site are the property of WriteLine.
All rights reserved.