ARTIFACTS FROM MAINE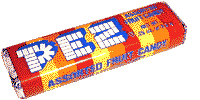 SWEET MUSIC. . . Already marveling at sounds coming out of the music box from the MUSICAL WONDER HOUSE (See 10/17/97 postcard), we were dumbstruck when the musical roll ended and a roll of candy spilled out. The sights, the sounds, and the tastes of the MUSICAL WONDER HOUSE are all a sweet delight.

Copyright 1997 WriteLine.
All materials contained in this web site are the property of WriteLine.
All rights reserved.