ARTIFACTS FROM MASSACHUSETTS

Souvenir Figurines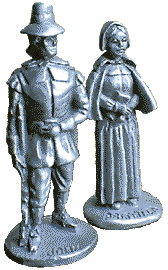 We got these pewter figures in the gift shop at Plimoth Plantation. They are the images of John Alden and Priscilla Mullens, the two lovers of Plimoth made famous by Henry Wadsworth Longfellow's book, "The Courtship of Miles Standish." The story goes that Captain Miles Standish, an old man, was smitten with a young lady from the Mayflower named Priscilla Mullens. He dispatched the young John Alden to her to speak of the Captain's great love for her. John visited Priscilla frequently to talk about what a great catch the Captain would be for a husband. Of course, Priscilla preferred the young John Alden to a salty old sea captain and said the famous line, "Why don't you speak for yourself, John." John and Priscilla were married and moved to Duxbury Massachusetts.

Copyright 1997 WriteLine.
All materials contained in this web site are the property of WriteLine.
All rights reserved.