ARTIFACTS FROM CONNECTICUT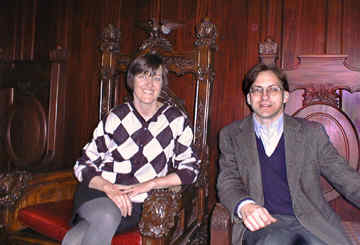 In August of 1856 when the Charter Oak Tree fell in a storm (See Connecticut Stamps), the people of Connecticut used the wood to carve mementos, one of which was the "Wishing Chair" shown here on the left. The legend is that if you sit in this chair and make a wish, your wish will come true. The chair is in the Senate Chamber of the State Capitol, high on a platform overlooking the senators. Special thanks to Officer Bill for taking this photo.

Copyright 1997 WriteLine.
All materials contained in this web site are the property of WriteLine.
All rights reserved.